About Us
The Best Place to Find and Buy Cell Phone Accessories
Go2Accessories is a unique presence on the web, offering a fast and easy user experience with the best service and pricing you deserve. With the thousands of wireless products and services available, finding the right cell phone accessory can be daunting. Get what you need at a price you can be confident in! Go2Accessories is a division of Foxxr, Inc.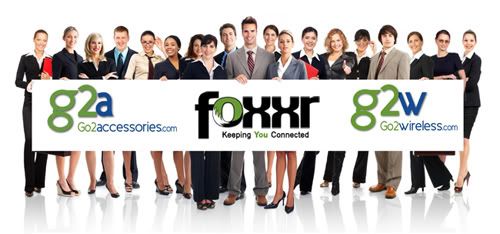 Experience You Can Count On
Our seasoned professionals have experience in the wireless industry ranging from 8 to 20 years. Our online stores provide the tools you need to keep your most important productivity devices protected, conveniently available and functional at all times. We are confident you'll find our representatives responsive, knowledgeable and dedicated to find the right products for you and your company.
Go2Accessories.com specializes in providing high quality, pre-selected wireless accessories for business people.

Go2Accessories.com is designed to allow you, the business and working professional, to save time, money and hassle by offering the widest selection of highest quality, reliable cell phone and mobile phone accessories on the market. Fast, easy, at huge discounts to business users.

Go2Accessories.com suppliers include all the major cell phone manufacturers, including Apple, HTC, Nokia, Motorola, Samsung, LG, Panasonic, Sony Ericsson, Blackberry, Siemens, Sanyo, Nextel, Audiovox, Kyocera, Palmone and more.

After market suppliers of quality cell phone gear and accessories are selected for their history of quality assurance and timely delivery.
Go2Accessories is owned by Foxxr, Inc:
Northern California

101 Grand Ave

Capitola, CA 95010

831-531-7771